Usually if I have vegetable leftovers, I chuck them in a stir fry. But I'm not that keen on stir fries. Perhaps I've eaten too many. Or maybe it's those gloopy sachets of sweet and sour mix, or just the fact that noodles are a pain to eat.
But worry not—I've stumbled across a brilliant new way of using up old vegetables. It's just as cheap, just as easy, probably healthier, and at least seven times more delicious than any stir fry. Now, the only problem is that my photos don't really do this recipe justice—but don't let that put you off. Give this one a try, and let me know whether or not you reckon it trumps a stir fry.
Ingredients
1 big onion
3 cloves of garlic
3 tablespoons of curry paste
1 litre of vegetable stock
180g dried red lentils
Vegetable leftovers (I used 1 courgette, 1 aubergine, 4 quite floppy carrots and 1 parsnip. I really think that pretty much anything would work with this though, as long as the vegetables are added at the right stage of cooking eg. root vegetables should go at the start, and any sort of peas, beans, spinach etc should be added near the end).
Method
Start the dish just like you would with a stir fry. Dice the onion, and gently fry in some oil, then add garlic after a couple of minutes, and then the chopped vegetables. Do this in a thick-based casserole dish though—not a wok.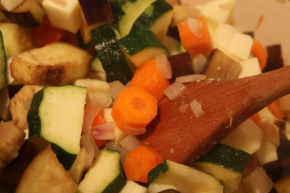 After about 7-10 minutes of cooking on gentle heat, the onion should be translucent, the vegetables should be softer, and you should be getting some nice smells. Next, stir in 3 tablespoons of curry paste—I used a pot of Tesco's Rendang curry paste, which I'd thoroughly recommend.
Pour the chicken stock over everything, and bring to the boil. Everything might look a bit watery and oily and generally unappetizing at this point—but don't worry, it'll taste delicious very soon.
Turn down the heat a little, so that things are simmering gently. Add the lentils, and stir occasionally. The lentils will soak up the vegetable stock, giving your dish a great consistency - like a thick soup, or a dhal curry. I served it with rotis-that way you can use the flatbread to grab handfuls of the stuff and shovel it into your mouth. Nan bread or rice would work well with this too though. It's cheap, healthy and delicious…and another recipe which works well in a lunchbox the next day.