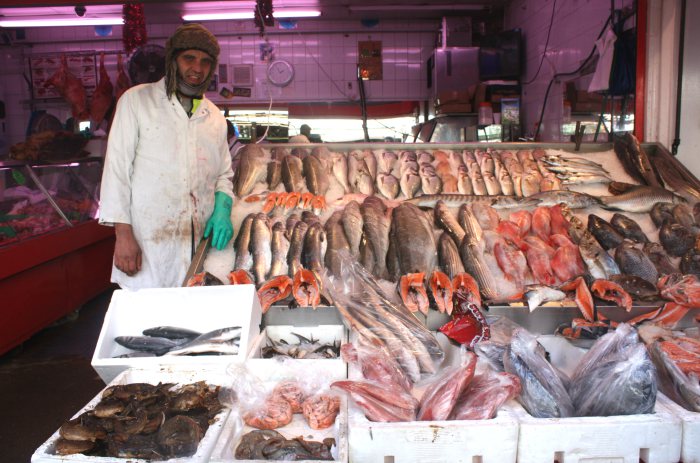 It's a sunny Friday afternoon, and Ridley Road Market is in full swing. Bunches of plantain, shelves of dried fish and bolt upon bolt of patterned fabrics. The east end market has existed for decades - it's said to have been the inspiration behind Eastender's Walford Market, but now has a definite Caribbean vibe and has been susceptible to the odd rat meat allegation.
Ridley Road is set just back from the East London Line. Tune out the high-pitched market cries, and you can hear the low rumble of a train speeding past. The area is constantly changing - as has always been the way in east London. Currently, the streets surrounding Ridley Road are a patchwork of newly-renovated Victorian houses, council estates and boarded-up pubs.
But Ridley Road Market shows no sign of gentrification. Not a cappucino, a loaf of sourdough or slice of Cornish Yarg in sight. The butchers are crammed with the bits nobody else wants. The fillet of beef and legs of lamb went to Borough. Ridley Road ended up with the 'sheep', the hooves and offal. It's a homage to 'nose to tail' eating - ignoring London's eating trends, and the recent renaissance. Tripe never went out of fashion on Ridley Road.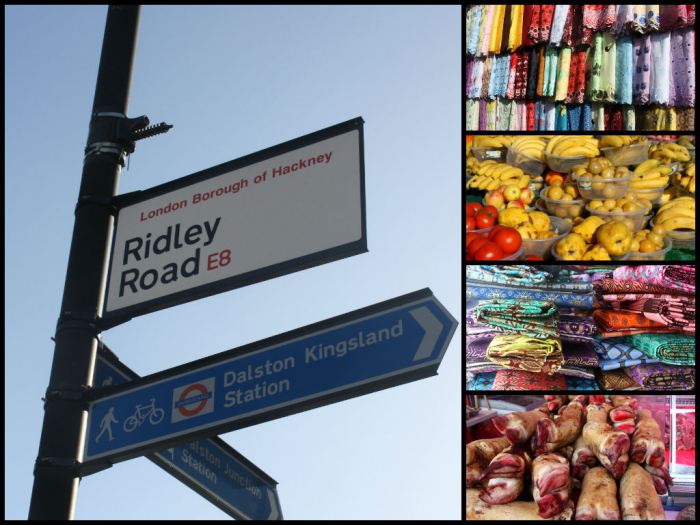 Shops fall in one of five categories. There are the aforementioned butchers, fishmongers, grocers, fabric shops and then a category best labelled 'miscellaneous' - anything from watches to 'designer' handbags.
The fishmongers are eager to chat. It's 1pm, but they have the wide-eyed look caused by an early morning trip to Billingsgate. Some fish are laid out on ice, some are pre-packed in bags and others sold straight from styrofoam containers. There are piles of dried fish, and brown crabs nudging the lids of boxes. Glistening sacks of fish eggs and boxes of dry smoked barracuda - contorted so that their tails impale their tiny heads.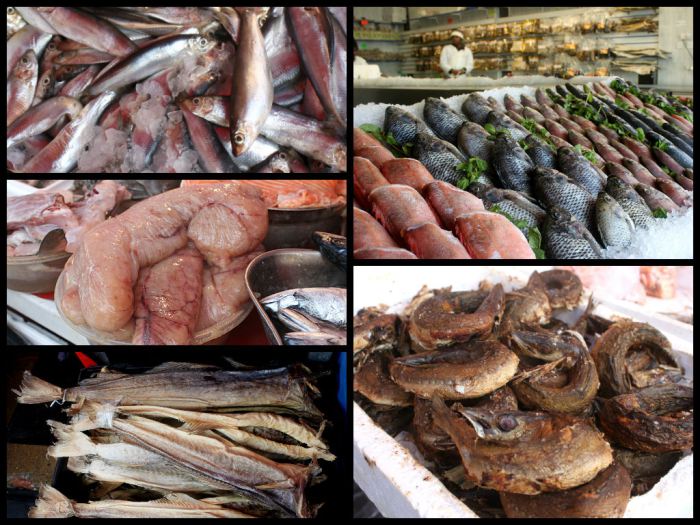 I buy a bag of hake - a kilogram for five pounds. A hake grows up to a metre long, and is a strong fish, with a big backbone to prove it. You can slice fillets off hake, as with any round fish. But I ended up with circular rounds - quickly cut with a vertical action, rather than the more skilled horizontal slicing from the bone required for fillets.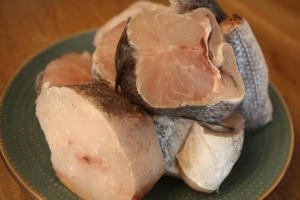 Still, at £5 a bag, you can't go wrong. Hake is a particularly popular fish in Spain and Portugal, but we're seeing more and more appearing in British markets - a friend suggested it was maybe because of Spain and Portugal's struggling economy. Right now, they can't afford hake, so more are slipping through the net - so to speak - and reaching Billingsgate by the boxful. Either way, it is a delicious, fleshy fish. It has a robust consistency, making it easy to cook - unlike more delicate fish which can quickly dry out or disintegrate. Hake has a meaty texture, but a mild consistency, so it's best accompanied by nice strong flavours, like this paprika spiced Spanish stew.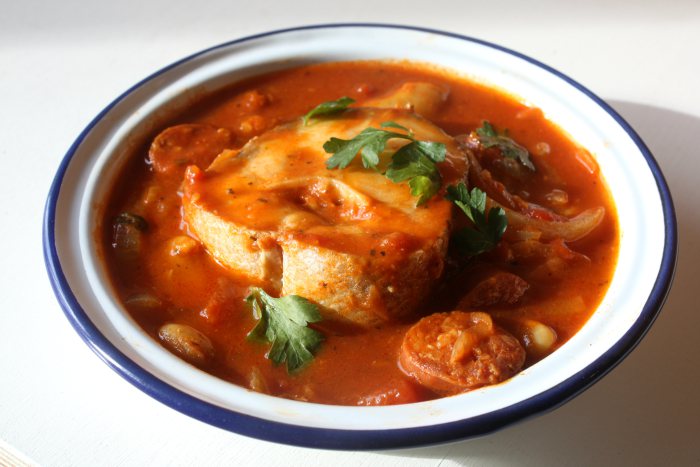 Spanish Hake Stew
Serves 4-6 people
1 tbsp olive oil
1 large onion, thinly sliced
3 garlic cloves, crushed
100g chorizo, sliced
1 tsp/tbsp paprika (dependent on brand/strength)
250ml white wine (or good fish stock)
400g tinned tomatoes
400g tinned butterbeans, drained and rinsed
150-200g sliced hake per person
Flat leaf parsley, to garnish
1. Heat the oil in a shallow casserole dish, or a deep frying pan.
2. Add the onions and chorizo, and cook on a medium heat for 10 minutes until the onions are coloured red and cooked, and the chorizo is starting to crisp, but not brown.
3. Add the garlic to the pan for a couple of minutes, and then stir in the ground paprika.
4. Pour white wine or fish stock over the onion mixture. Add the tinned tomatoes and butterbeans to the pan, and cook for 10-12 minutes on a medium heat.
5. Place the circles of hake on top of the tomato sauce. If you have a lid for the shallow casserole dish, put it on - and if you're using a frying pan, then put a flat tray on top, so that you create a nice steamy environment, and there isn't too much liquid evaporating off the sauce.
6. Cook the circles of hake for 4-5 minutes on one side. Turn them over, and cook in the same way for the same amount of time on the other side.
7. Serve with brown/saffron rice, or slices bread - and garnish with flat leaf parsley.