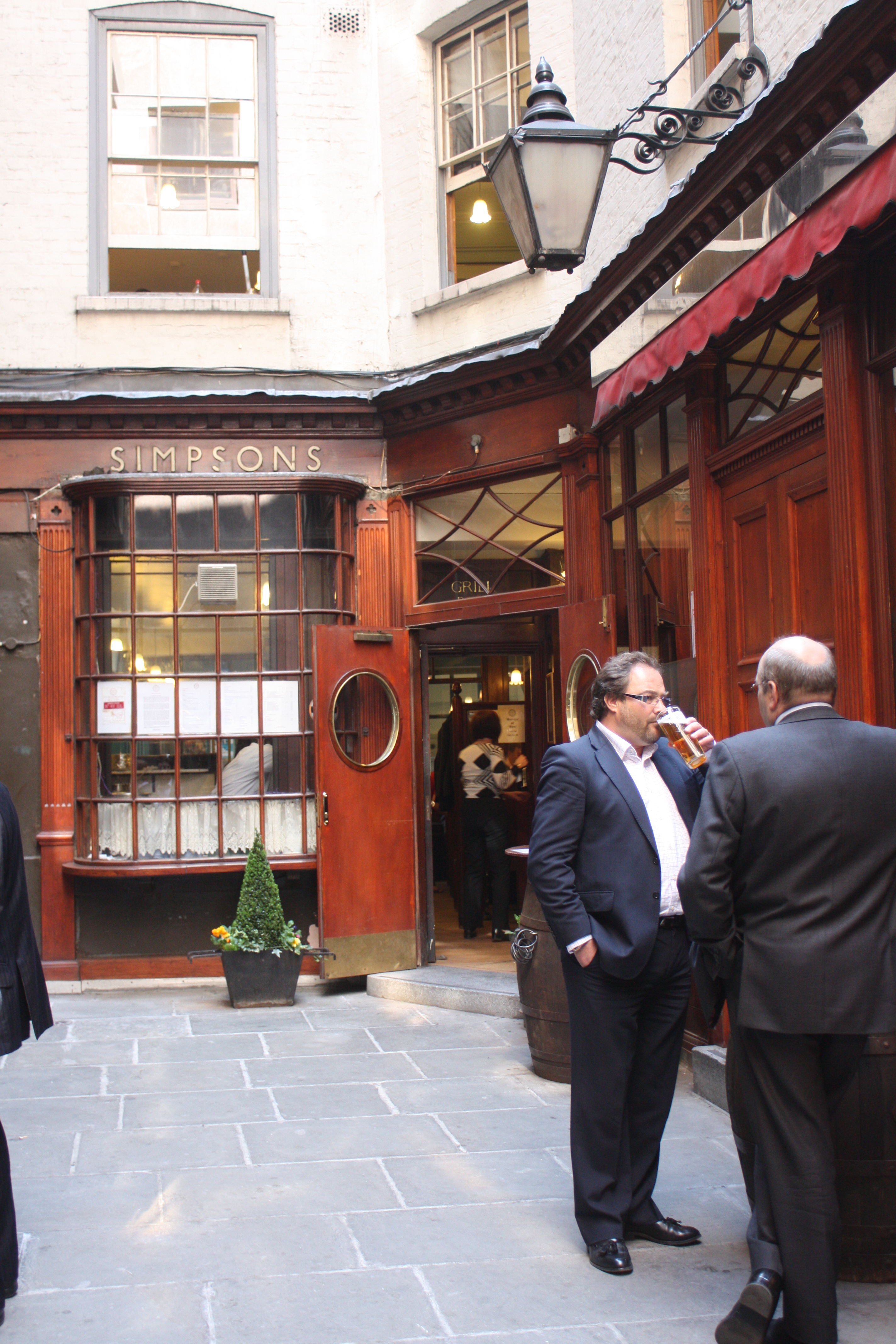 The City seems to goes through various stages of evolution. In the '80s it was all cocaine and prostitutes… now it's all super-food salads and cycling to work.
In my mind, most modern day City dwellers fall into one of these two groups though – the '80s throwbacks, (Stringfellows/Abacus) or the twenty-first century traders (Chop'd/Chrussh Juice Bar). The weird thing is that my boyfriend falls into neither. He's in his own nineteenth century bubble.
I'd only had lunch with him once in The City. It was a sunny day, but we went to The Swan – a Victorian pub where everything's dark wood, swirly carpets and 38°c. It was crammed full of barking brokers crushed together in a pin-striped pack. We had a beef sandwich…but the businessmen were exuding extraordinary amounts of body heat, the mustard was luminous and everything was a bit…heady and Victorian. Not in a good way.
He relishes these smoggy, fusty pints though. He's hot on tradition, real ale and whether or not to experiment with fob watches. When eulogising his sepia-tinted view of London, 'Simpsons' is sometimes brought into the conversation – the archetypal old school institution that's still going strong in the twenty first century.
It's a traditional tavern that didn't admit women until 1916, still has hat stands for your bowler, and only serves battered cod on a Friday. Being the inquisitive type, it was just a matter of time until I persuaded him to take me there to check it out for myself..
As a bit of a cynic when it comes to most things to do with The City, I was expecting the worst. To sum up though, it was brilliant. It's down a tiny alley off Cornhill, and has been there since 1757 – apparently Thomas More once lived in the same building before it was turned into a tavern. There are two levels in the restaurant, which are packed with booth seats – old boxes taken from Lloyds of London which cram in diners like pupils in a prep school refectory.
There's no beating around the bush at Simpsons. The gist of the place is that it does meat, and it does it well. Not only does it do meat well, but it serves all meat dishes with an extra sausage just in case – old school carnivorous stuff.
We started off with the chump chop. It was cooked in an open kitchen, and brought to us by a lovely waitresses (with a sausage, of course). The meat was delicious and wonderfully cooked – my only sadness was that we didn't go for the mixed grill where I would have got to experience an even wider variety of meaty treats than the lamb and sausage - apparently it's an admirable selection.
We had four sides between three of us – mushrooms, spinach, chips and bubble and squeak (I said that it was old school stuff). Sure, the sides weren't haute cuisine. When it says mushrooms on the menu, it really does mean mushrooms – no butter, garlic or herbs meddling about with bare mushroomy flavours. Same with the spinachy spinach and the standard chips.
The grand finale of the meal was the much anticipated 'stewed cheese' though….
There were two 'old boys' crammed into the box next to me wearing expensive suits with excellent facial hair. They ordered two stewed cheeses to finish, and two large glasses of claret at two o'clock in the afternoon. I got the feeling that they had been going there and ordering that for at least 80 years – now that's really living. Inspirational.
Simpsons Tavern
36-38 Cornhill
City of London
EC3V 9DR
(make sure you book in advance)
Roughly £20 per head