Mac 'n cheese: the ultimate comfort food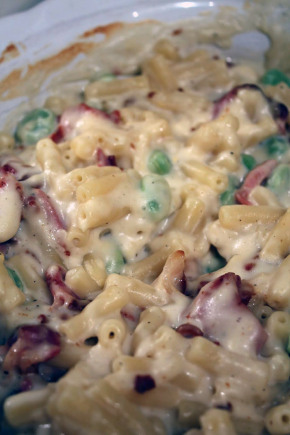 When it comes to nasty things lurking in the fridge, a gnarldy piece of cheese ranks highly. Everyone's got one. An old lump of Cathederal City, a pongy bit of Castello Blue, or a slippery piece of brie that keeps trying to escape whenever you open the door.
Well, those of you with a good memory may recall the wonderful cheese parcel that I received on 13 October. After initially gorging myself, I became increasingly frugal about eking out the rest of the cheese…which resulted in a sweaty piece of pont l'eveque creating a big old stink in the fridge. Two months later.
I don't like binning things unless absolutely necessary. And it's never really necessary to bin a piece of cheese—no matter how fluffy or sweaty.
Although it wasn't really acceptable to eat the pont l'eveque on a biscuit anymore, it was the ultimate ingredient for a very cheesy, cheese sauce—the kind that gently stings the nostrils. Yum.
So, with a pre-prepared jug of cheese sauce in the fridge, and a corporate-entertainment-weary boyfriend, lastnight was the perfect opportunity to whip up some macaroni and cheese. The ultimate comfort food.
Ingredients
• Flour, butter and milk for a roux (ratio of 1 tablespoon of butter to 2 tablespoons of white flour and about half a pint of milk. Go full fat. You know you want to.)
• Cheese to flavour the roux. The smellier the better, and don't feel constricted to one cheese—if you've got a few odds and ends in the fridge then chuck them all in.
• A couple of rashers of bacon per person (cooked ham is even better)
• A small handful of frozen broad beans per person
• Around 75 grams of macaroni per person
To make the cheese sauce, mix together the flour and butter in a medium-hot pan. Cook it gently until it turns a straw-like colour, and then slowly add milk, whisking thoroughly as you go.
Once you've achieved a panful of creamy, white sauce, then grate in the cheese (if it's hard) or tear it into small pieces (if it's soft), and add it to the hot sauce so it melts in.
To turn this into mac 'n cheese, boil the macaroni in one saucepan, and then cut the bacon into strips and pop it into a frying pan.
Have both the pans going at the same time, because the bacon and pasta will both take about ten minutes to do.
When you think the pasta has just a few minutes left of cooking, chuck the broad beans (or peas) in with it. Strain the beans and pasta and tip them into a baking dish. Add the bacon to the dish, and then pour the hot cheese sauce all over everything—stir and season.