Häagen-Dazs taste testing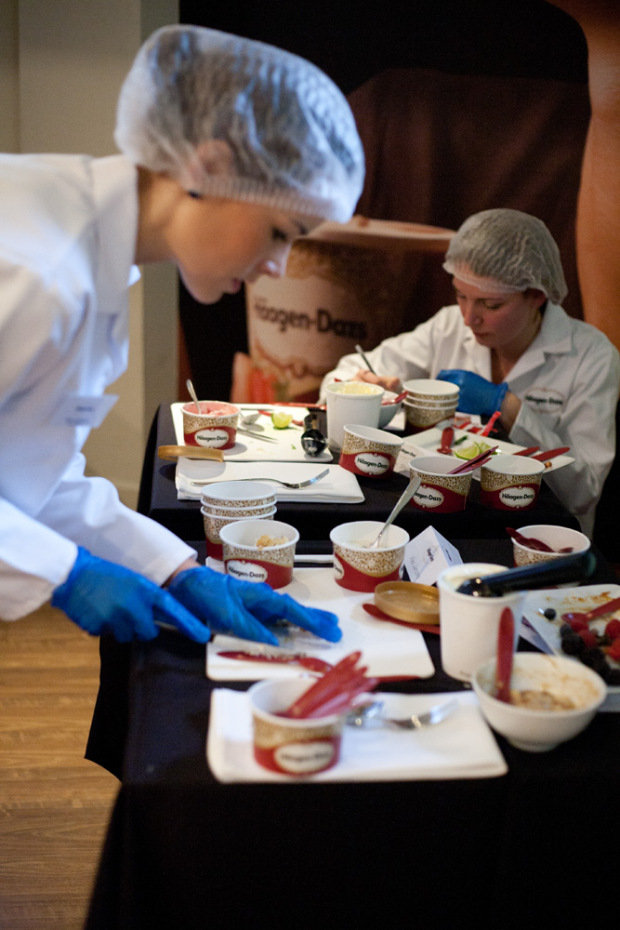 One of my saddest moments happened when I went to boarding school aged thirteen. It wasn't down to feelings of abandonment or any old-fashioned fagging system. But I came face to face with the stark reality that normal people didn't eat ice cream for breakfast.
Five years of toast.
Boring.
Mum always had a liberal approach to breakfast – ice cream is mainly dairy, custard is mainly egg, and swiss roll is mainly bread and jam so it's a deconstructed continental breakfast if you think about it - anyway we were young, ran around a lot and had a high metabolism.
Being brought up in a family that doesn't restrict ice cream consumption to conventional times of the day has helped embed my love for all sorts of gelato, sorbet, sundaes and frozen yoghurt.
So, imagine my excitement when I picked up a copy of the Metro a few weeks ago to see that Häagen-Dazs were running a taste-testing competition with the winner scoring a year's supply of ice cream.
Needles to say I entered straight away and, thanks to the lovely people who voted for me, and thanks to the lovely Häagen-Dazs team who took pity on the dodgy rhyming and metre of my application poem, I made it through to the final.
So, the weekend before last I trotted along to the Leicester Square Häagen-Dazs store and embarked upon the most piggy afternoon, troughing criminal amounts of ice cream.
The first part of the afternoon sounded terrifyingly technical with written tests to weedle out the best ice creamist amongst the ten competitors. But as soon as mini-pots started whizzing in and out, I got wholly distracted from the matter in hand, and 100% focused on eating as much of each flavour as possible before it was prised out of my hands…and replaced with…more ice cream.
We wrote taste profiles of two different types of caramel, and picked out which was used in the Dulce de Leche ice cream. Then we tried three different vanillas, scrawled down written descriptions of each and picked out which we thought was the Häagen-Dazs (easier than it sounds – the Häagen-Dazs vanilla is a lot heavier because they don't pump ice cream full of air, but leave it as dense and rich and creamy as humanly possible…)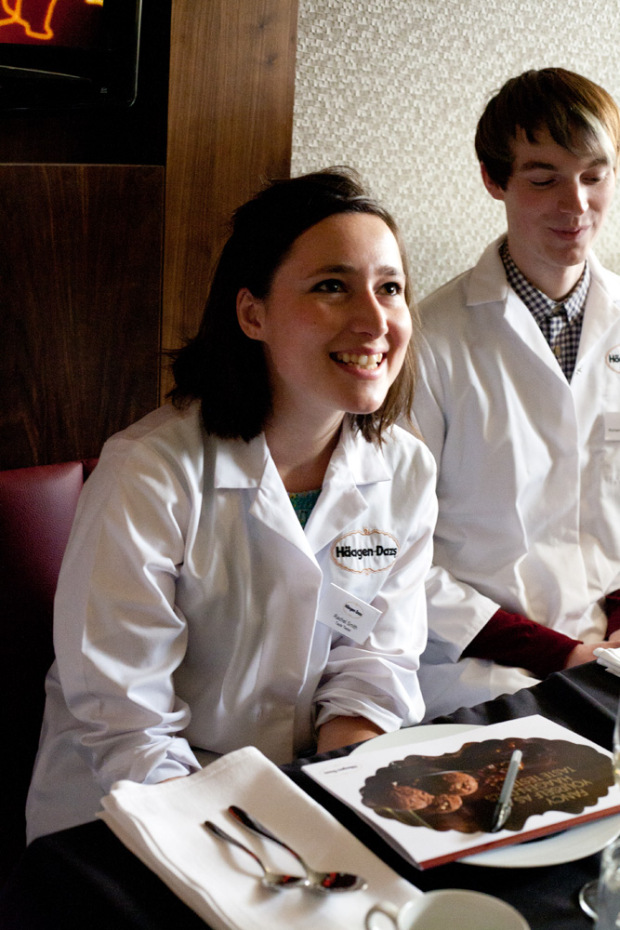 In between this we were fed snippets of information – along with lots of ice cream pots:
"People in different countries have different palates so we have to take this into consideration" (cue a delicious and intriguingly dry Green Tea ice cream for the Japanese palate)…
"The Brits' favourite flavour is strawberry cheesecake" (cue a pot) …
"Brits don't like nuts as much as the rest of Europe – the best selling flavour in France is macadamia nut brittle, though praline and cream is forth most popular in Britain" (cue two more pots) …
"We usually work on seven different flavours at once, but only one will make it to the market" (cue a pot of cherry and cream ice cream and a pot of white chocolate crumble) and so it went on…!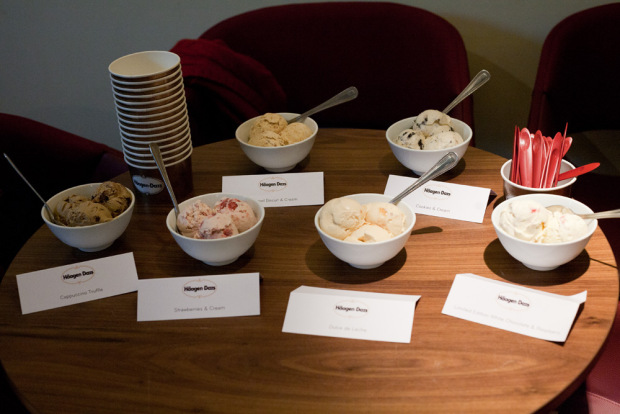 I was so distracted by the ice cream that when it came to the comprehension test at the end, I couldn't even remember the name of the Häagen-Dazs founder. Idiot. (Reuben Mattus, for those of you who are interested)
…though I did remember that the vanilla is from Madagascar and it took them five years to find the exact right strawberries for the strawberry cheesecake, so the lesson wasn't completely wasted on me!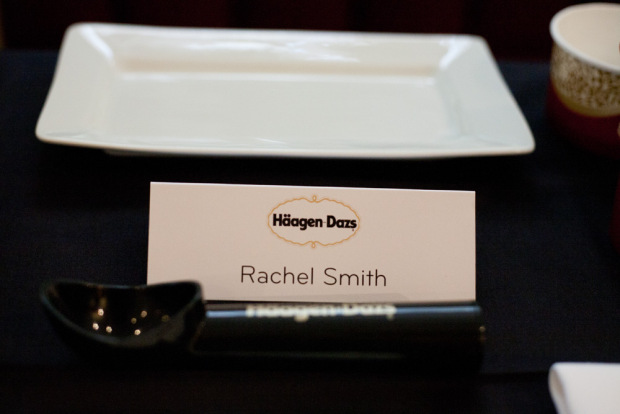 After a break and a glass of bubbly, we went onto the flavour-creation part of the competition.
Each contestant had a table with scoops, bowls and a tub of plain ice cream which was the base of everything we created. On the opposite wall was a tableful of berries, booze, chocolate, sauces, biscuits and other mystery ingredients which we could grab in handfuls and chop, sprinkle and stir into our new ice cream flavour.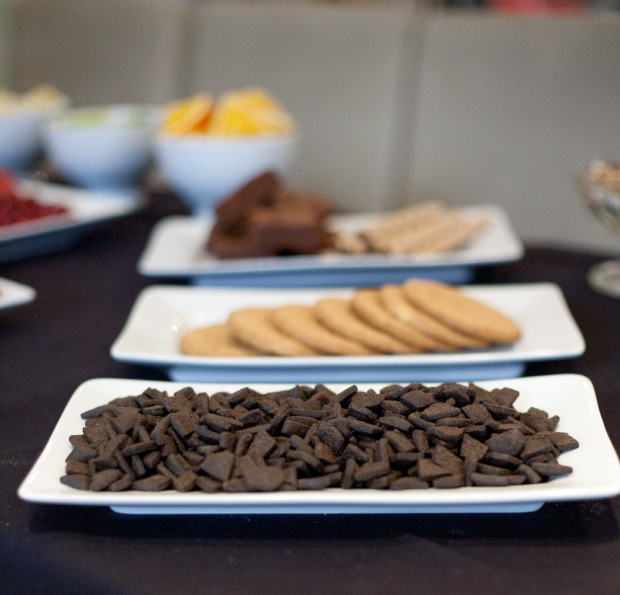 We didn't have a brief to follow for the first task, but were told to just make something we fancied. I went for blueberry, pomegranate seeds and white chocolate with a hazelnut and biscuit topping—probably quite Supermarket-Sweep-logic because blueberries and pomegranate seeds usually count as luxury food, so it was an excuse to gorge myself on delicious berries without the guilt…well, that and I also needed something fruity after taking on several litres of ice cream by this point in the afternoon.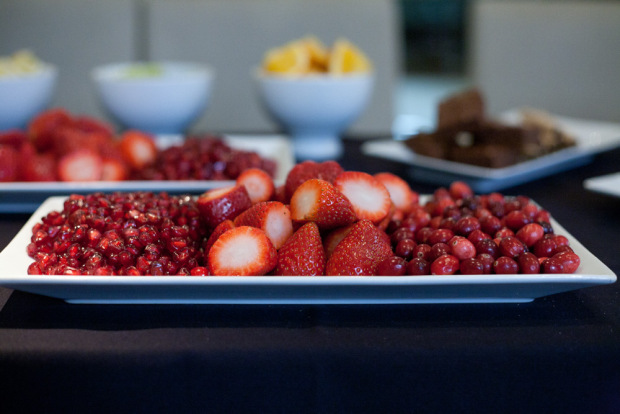 The second task was to make something Christmassy which fitted with the Häagen-Dazs brand, and was aimed at the theatre-going market. Quite Apprentice-esque!
I put on my thinking cap and decided to start with some seasonal ingredients. I grabbed a handful of cranberries, and then scooped up a big dollop of what I thought was chocolate sauce…
I mixed it with my plain ice cream and took a big old mouthful. But horror of horrors the damned chocolate was marmite!
Disaster! I tried not to cry. Which was hard. I'm not a crier, but marmite sullying ice cream really is somewhere near my boundry.
Anyhow, I found a clean bowl, substituted the marmite for chocolate chunks, and started again, mixing the cranberries in and topping it off with toffee sauce as my final attempt at the grand prize.
Although my flavours were delicious (not that I'm at all biased…), I got a phone call saying that the year's supply was not to be mine…but all runners-up got a voucher and 25 courier-delivered mini pots…not that I'll be eating ice cream again for a long time after scoffing so much the other weekend.
Though I'm out of muesli, and there is some elderflower ice cream in the freezer which could work for breakfast tomorrow morning…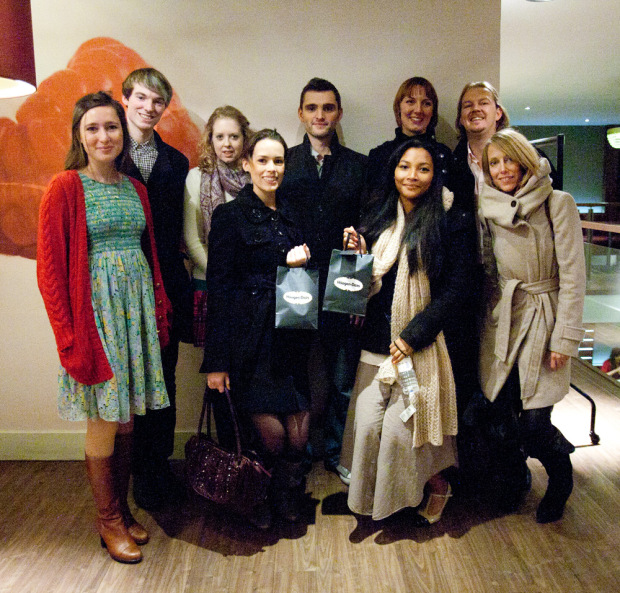 Congratulations to Aelfwyn - a hugely deserved winner (back row, second from the right). Enjoy the ice cream!