You asked for my take on
the great joys of life.
The taste of crisp bacon.
The love of my wife.
Often that order could be reversed,
but some days, the taste of crisp bacon stays first.
….so starts a wonderful poem entitled 'Ruminations on the Smell of Bacon' which was composed especially for The Bacon Poetry Contest.
This somewhat esoteric poetry competition is, in fact, a mere warm-up act for BaconFest Chicago 2012—billed as "The greatest single culinary and cultural festival ever dedicated to Bacon and Bacon only", featuring everything baconny, from bacon-inspired crafts to bacon-spirits. A chance for 3,000 bacon aficionados to gather in Downtown Chicago and…well, talk pork.
"Typical Americans" I hear you smirk. Well, dear readers, wipe that sneer off your face, because it's not just our cousins across the Atlantic who are fans of all things streaky and crispy. Indeed, this week is Bacon Connoisseurs' Week. A seven-day celebration of quality British pork.
This kicked off with the pig-equivalent of The Oscars with categories ranging from Classic Dry Cure Category to The 'Rasher-nal Treasure Award'—which I suppose is the equivalent of The Lifetime Achievement Award….only instead of Meryl Streep we're talking Old Spot Beer Mustard and Staffordshire Honey Middle Bacon. Far better.
'Rashernal' puns aside, bacon is widely considered to be a National Treasure. Early this year, 60,000 Britons were polled, and put bacon sarnies top of the charts, followed by a Sunday roast, and a cuppa tea. Dubbed by Gregg Wallace as "one of the western world's greatest triumphs", and accused by Hugh Fearnley Whittingstall to be the Achilles Heel of vegetarians nationwide, it seems only fair that we join together to celebrate this porky slice.
I have joined in Bacon Connoisseurs' Week by making some Cowboy Beans. I treated myself by using Black Farmer bacon, which really does have a gloriously smoky flavor which works particularly well with the cigar/bourbon/saloon bar vibe in these Boston-based, cowboy beans. Enjoy.

VOTE for my entry here—I might win a magimix or something!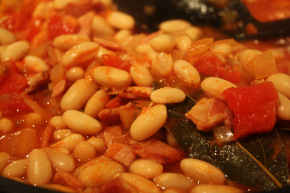 Ingredients
8 rashers of Dry Cured Hickory Smoked Back bacon
400g tin of chopped tomatoes
4 x 400g tin of cannelloni beans
2 large onions, diced
Knob of grated ginger
3 tbsp of Dijon mustard
Big squirt of tomato paste
2 tbsp of cider vinegar
500ml dry cider
2 tbsp Worcestershire sauce
Fresh thyme
2 bay leaves
Slosh of cognac
2 tbsp of dark brown sugar
Pepper and salt to season
1. Cut the bacon into small slices about 2cm long and start frying them on a medium heat. Once the bacon begins to turn a little crispy add the diced onions to the pan.
2. At the point that the onions start to turn translucent pour the bottle of cider over the bacon and onions. Rinse the cannelloni beans and add them to the pan. Grate in some fresh ginger, then add the mustard, cider vinegar, Worcestershire sauce, thyme, bay leaves, tomato paste, tinned tomatoes and cognac.
3. Add a tablespoon of dark sugar (it's easier to add than take away, so wait until the beans have cooked a little longer before adding any more if needed).
4. Cover and cook on a low heat for an hour and a half. Taste and season.