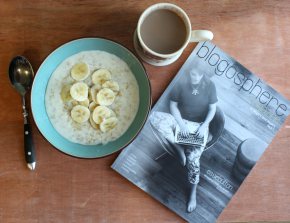 The last month has been the busiest for as long as I can remember.
Three weeks were consumed by a cooking job from morning to night. As I'm not quite as organised as I once believed, I failed to create any kind of sensible backlog for my Telegraph column. So every Monday evening, I came home, sat on the bed - listening to the drawl of Made in Chelsea and roars of laughter coming from next door - and I tried to focus on liquid smoke or matcha or nori…
Of course, this would be the month that old, lingering pitches I made ages ago got unearthed by editors who suddenly accepted them. Only if they could be written immediately. I spent a week in Denmark (which you will hear lots more about in posts to come). Oh, and I helped launch a magazine.
The launch party itself coincided with the last day of my cooking job, and I was terrified I wasn't going to be able to make it. I couldn't leave work until I had cleared up supper. And as much as I would've loved to, I really couldn't hover over the family asking them if they could eat "just a little bit faster so I could make it to the party…"
No woman has ever crossed London quicker than I did that night. Full-on sprinting in heels, with my poncho billowing out behind me, I made it, and was delighted to see that the evening was still in full swing.
To say it was a good night would be an enormous understatement. A Gatsby-esque mood was building in the riverside penthouse. One minute, the pianist, Luke Allwood, was tinkling the ivories…the next minute my friend James was draped across the baby grand, giving a full rendition of The Girl from Ipanma. One minute a friend was chatting to the girl next to her…the next minute, said girl was was braless, swinging a top round her head. Rarely do you witness such dedicated school-night drinking. Just a wonderful example of what a Wednesday night can be.
Now, a little more about the magazine. Firstly, I can report back that Blogosphere magazine still has that freshly-printed smell. The cover is heavy-silk paper. Beautiful to touch. All the sections are introduced with illustrations by the talented Olivia Crane. And Angela Lyons is behind the pretty darned slick design.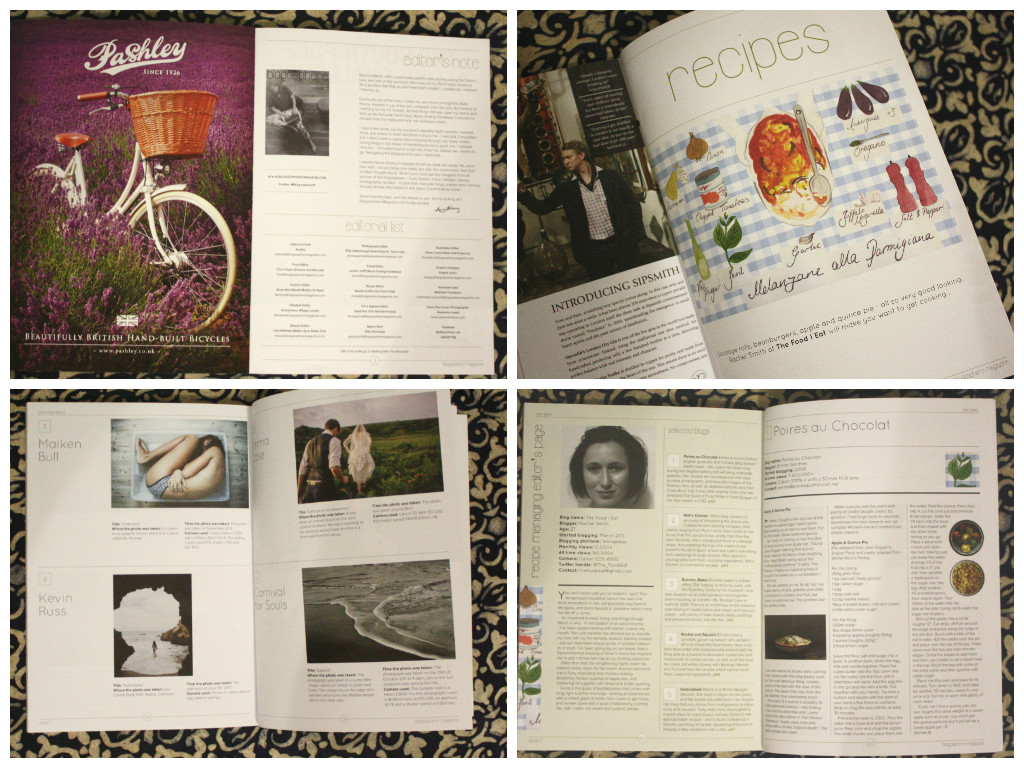 The sections are divided up into: food, fashion, lifestyle, beauty, photography, travel and recipes…which, I think I may have mentioned in a previous post, I am editor of. Each issue, the section editors choose five of their favourite blogs, and a post from each one is showcased.
Perhaps the best way to describe it is The Week for the web.  It's a way of flagging up some of the best bits to read, from within the murky depths of the blogosphere. Hopefully the magazine will also inspire people who are thinking about starting a blog, and help might help create something of a community for those who already have. Blogosphere also donates 10% of the profits from each issue to a different charity - the first one being the excellent cause that is Walking With the Wounded.
Being editor of the recipe section has proven to be a joyous excuse to spend even more time than usual trawling through some of my favourite blogs. But one of my favourite aspects of the magazine is that it has given me a little insight into the world of beauty blogs, and fashion blogs and travel blogs - which are actually very different to food blogs, and which I previously knew little about. I know you shouldn't have favourites…but my favourite part of Blogosphere is the photography section, headed up by Kitty Gallannaugh, featuring 'fffff', The Public Diary, Maiken Bull, Kevin Russ, Emma Case and Carnival for Souls …. see what I mean, ain't it nice to be steered in the direction of some new blogs, to shake up your normal browsing habits?
If you are interested, then I urge you to get your hands on one of the few remaining print copies (£4) or to download the e-edition (£2).
I have a copy in front of me as I type. And now that the month of madness is behind me, I have every intention of curling up on the sofa, eking out a cafetiere of coffee and bowl of banana porridge, and rereading some of the best bits from the blogosphere…
Banana Porridge
(Serves 1)
350ml milk
50g jumbo oats
1 banana
Honey
Just as a small aside, I should mention that the oats are critical. There aren't many occasions where I recommend that you get the best that money can buy. But oats really is one of those occasions where it makes an enormous difference. So splash out on something like these Jumbo Oats from Five Sailed Windmill, or some nice ones from Infinity Foods (£2.29/kg). It won't break the bank, and it will revolutionise your morning porridge.
Pour the milk into a pan.
Heat.  
Once the milk is hot (but not yet simmering) add the oats.
Stir on a medium-low heat.
Top with chopped banana and a drizzle of honey.