Using Leftovers: Buttermilk Herb Pancakes with Aubergine & Smoked Kipper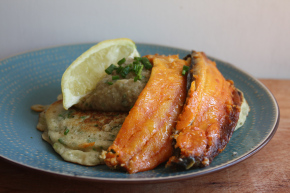 Just a very quick post for a Sunday evening about using up leftovers. For anybody kind enough to have read my last couple of posts, it mightn't be an enormous surprise to know that last week I had some leftover buttermilk and leftover aubergine pate.
So I decided to make a luxuriant brunch, using herb pancakes as a vehicle.
As I mentioned in my previous post, the thing about buttermilk is that it's acidic. So when it's mixed with (alkali) bicarbonate of soda, a reaction happens that creates carbon dioxide bubbles. Which means light, fluffy risen pancakes.
These pancakes aren't like thin, French crepes, but a kind of American pancake - the sort eaten with blueberries and maple syrup. I'd recommend making a big batch….and creating some new leftovers! The herb pancakes were delicious with hummous. Also, if you don't happen to have any leftover aubergine pate (!) then a dollop of creme fraiche would have actually made more of a conventional serving.
Just as a final aside, I used Tescos kippers. A much-maligned fish. But at just £1.14 for four fillets, it's time this fish got some time in the limelight. The Tescos kippers are pre-packed with a little lump of butter, and can be microwave inside the packet in four minutes. Easy peasy. I ate two of the smaller fillets for brunch, and then used the other two in a potato, mayonnaise and dill salad for a picnic the next day.
Recipe: Buttermilk Herb Pancakes with Aubergine Pate and Smoked Kipper
1/2 onion (or 2 shallots), diced
1 clove of garlic
140ml buttermilk
80g plain flour
1 tablespoon milk (to loosen)
1/2 teaspoon salt
1 egg
1 handful each of: chives, mint, parsley - chopped
1 teaspoon of bicarbonate of soda
A big dollop of aubergine pate (or creme fraiche)
Tesco smoked kipper
Lemon, to serve
1. Sweat the onion or shallots in a pan, and then add the garlic. Remove from the heat, and set to one side.
2. Pour the buttermilk and egg into a jug, add the flour and whisk. Loosen with the milk, if needed, until the mixture has the consistency of thick batter.
3. Add the herbs and then tip the onion/shallots into the jug.
4. Heat up the pan you fried the onion/shallots/garlic in again - adding a bit more oil if necessary.
5. At the last minute, stir the teaspoon of bicarbonate of soda into the jug.
6. Ladle a scoop of the batter into the hot pan, and let it spread until it's about 5cm across.
7. After 30-45 seconds, flip the pancake, and let the other side cook for about 20 more seconds.
8. Flip the pancake onto the pan, put a dollop of aubergine pate (or creme fraich) on top, then the smoked kipper - and garnish with a few chopped chives.