I know, I know…what's the point of "reining it in" if, during a small relapse, you eat a large quantity of chicken liver pâté (which Tom rightly observed is essentially Meat Butter).
But it was inevitable. Well, inevitable in terms of two separate events colliding, and creating the inevitable result of chicken liver pâté.
The first occurrence was me reading Elizabeth David's A Taste of the Sun. The language she uses is musical and magical and evocative: "To the buttery juices in the pan add the brandy" she instructs. "Add a teaspoon of salt, and a sprinkling of milled pepper. Put in the remaining 2oz of butter, softened not melted".  Pure poetry. Come on, this isn't the sort of language that encourages you to make a salad, or miso soup. No, subconsciously, you're sniffing out chicken liver pâté before the idea even pops into your mind.
And here comes the second occurrence. I was at my third-favourite butchers, Casa de Carne (my first two being Joseph Morris and McKanna Meats) - innocently buying a slim, and frightfully lean piece of steak, when I spotted a kilogram tub of chicken livers . Just £2.50. Suddenly, I knew what I had to do. I had to make chicken liver pâté.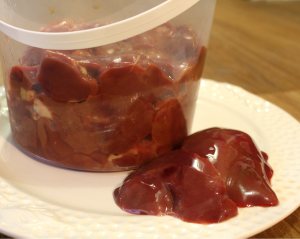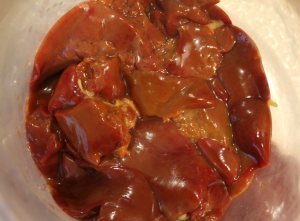 Elizabeth David's recipe for Potted Chicken Livers uses a ratio of 4g chicken livers : 3g butter. Jamie Oliver uses the same ratio (400g chicken livers, 300g butter), and Felicity Cloake uses 350g chicken liver to 175g butter…but then gives it a boost with 75ml double cream.
I wimped out a bit by weighting the ratio far more in the favour of chicken liver - figuring that the protein was healthier than fat! This, combined with the fact that I didn't push it through a sieve, as lots of recipes recommend, meant that it wasn't so silky-smooth…perhaps more of a rustic meat spread. But a darned good one.
Incidentally, if you are interested in making chicken liver pâté, then do read around a bit more - as I made a very quick, cheats version. 'Proper' chicken liver pâté is blended with just-soft butter, strained and topped with clarified butter…there are all sorts of practices to adhere to, and I'm sure that a French chef would faint out of horror if he read my five minute recipe below.
A final couple of notes to leave you with. Firstly, regarding the practice of storing pâté in ramekins and then creating a lidded 'seal' with clarified butter. This stops the pâté from drying out, and turning a stomach-churning shade of brown. I didn't want to faff around with clarified butter, so put it in a bowl with some cling film over the top. This is not sufficient to stop discolouration. Luckily, it tasted just as delicious, but you mightn't want to present it like this if you have sensitive, or weak-stomached friends over.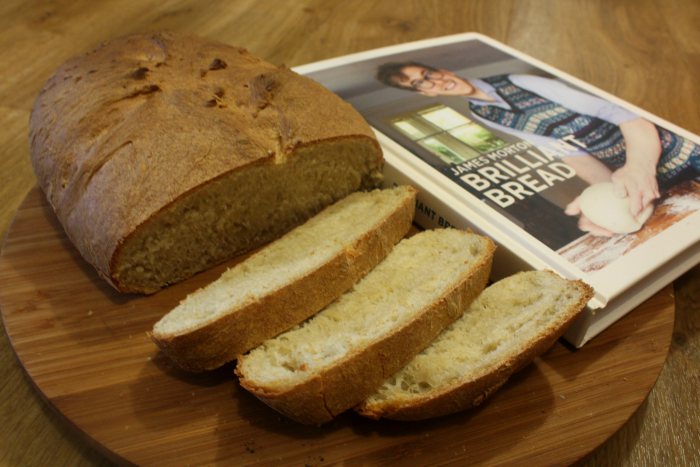 Finally, serving suggestions. The bread is very important - a solid, crusty vehicle is key. Luckily, Tom had taken the hint of me giving him James Morton's Brilliant Bread for Christmas, and sweetly baked a loaf of his Mug Bread. I then slathered this with Delia's Old Doverhouse chutney, put the pâté on top, and "garnished" with a couple of slivers of cucumber. Bliss.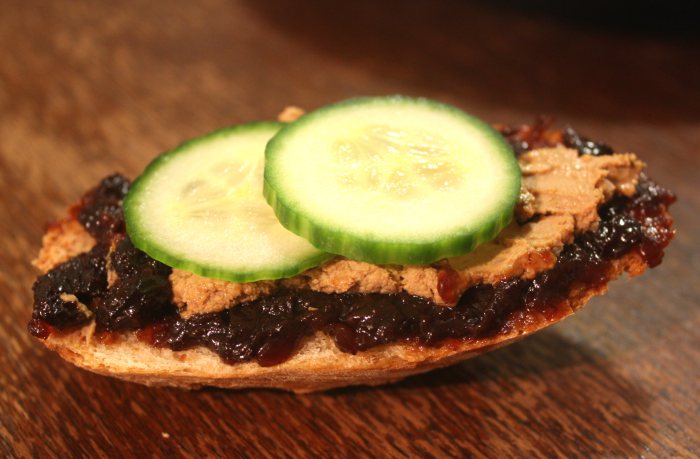 Recipe: Chicken Liver Pâté
Serves 6, for lunch
200g butter
1 banana shallot, diced
450g chicken livers
1-2 tbsp brandy
Salt
Pepper
1. Heat the butter in a frying pan on a low-medium heat.
2. Add the banana shallot, and cook gently until translucent - not coloured.
3. Turn up the heat to medium, and add the chicken livers to the pan. Cook them for a couple of minutes on each side. As Elizabeth David instructs, "the outsides should be brown but not toughened, the insides should remain pink, but not raw".
4. Pour the brandy into the pan, and let it sizzle for a few seconds - allowing the alcohol to burn off - then remove the pan from the heat.
5. Put the butter, brandy, shallots and chicken livers all in a blender, and mix into a paste.
6. Season with salt and freshly-ground pepper.