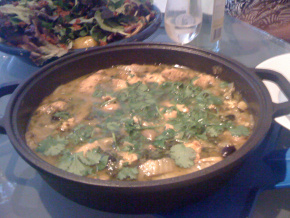 On Thursday evening Natalie invited me round for supper.
Just to keep you up to date, I shall from now onwards refer to her as Dr Durkin - firstly, because Dr Durkin is a more comic name than Natalie. And secondly, because this is now her real title.
Despite putting on a fairly good show of being good-to-average at medicine, Dr Durkin recently pulled it out of the bag, and got a distinction in her finals, elevating herself to the group of 'cleverest people I know'…along with her boyfriend who is an extraordinary cross of Rain Man slash Münchausen, so also has a remarkable knowledge of medicine (and British roads).
I digress – but we are all exceedingly proud.
Anyway, when Dr Durkin comes to mine, I'm often in the midst of some food-related adventure/calamity (such as the two-day search for a pot of glucose). This is the result of single-track-mindedness, and also the fact that I secretly like these ingredient sourcing challenges - it's a pleasant way of spending an afternoon and discovering new parts of London (I am, incidentally on the look-out for pigs' trotters at the moment if anyone has any tip-offs…Dalston market, perhaps?)
Now, Dr Durkin has a final summer before beginning real-life doctor stuff, and with all of us at work, it seems that this food-sourcing-obsession seemed to have rubbed off. When I arrived, Dr Durkin was all excited about a pot of preserved lemons. From what I could gather, she'd been on a walking tour of most of south west London before finding a jar for £1.50 in a little Arabic shop nearby – she had an air of hunter-gatherer victory, tantamount to a caveman finally spearing the wild hog they'd been chasing all day.
To cut to the punch-line of this post: lengthy, ingredient-sourcing expeditions are absolutely worth it. The (Jamie Oliver) chicken tagine recipe Dr Durkin was following required fennel, saffron and preserved lemons. On a lazy day, I'd be tempted to leave out the fennel…and saffron, and substitute the preserved lemons for a squeeze of lemon juice. But the moral is that (more than often) following the recipe really is the way to go.
If you're going to make one chicken tagine, make this one –and put in all the ingredients. Everything's in there for a reason, and the result is absolutely delicious beyond belief.
Nb. Dr Durkin served the tagine with an excellent couscous creation which is pictured here. You'll just have to wait until I get her to email the recipe over though.

Chicken, olive and preserved lemon tagine
Serves 4-6
1 whole chicken (approximately 1.5kg), preferably free-range or organic, skin-on, jointed 
into 4 (get your butcher to do this for you) – I have a feeling that Dr Durkin actually used chicken breasts here – I'll have to double check for you.
Olive oil
1-2 large bulbs of fennel (we had a big discussion how to prepare these, and decided that the best way was to cut off the woody, green stalks, and then thinly slice the actual bulb – like how you'd slice an onion.)
2 onions, peeled and roughly chopped
A small bunch of fresh coriander
4 cloves of garlic, peeled and sliced
2-3 small preserved lemons, deseeded and chopped
80g black and green olives, stoned
A good pinch of saffron
500ml hot organic chicken stock
For the spice rub
1 heaped teaspoon coriander seeds, bashed up
1 level teaspoon ground cumin
1 heaped teaspoon ground ginger
2 tablespoons olive oil
Sea salt and freshly ground black pepper
Mix all the spice rub ingredients together in a small bowl. Put your chicken pieces into a large bowl, massage them with the spice rub, then cover with clingfilm, and put into the fridge to marinate for a couple of hours or, even better, overnight.
When you're ready to cook, heat a generous lug of olive oil in a tagine or casserole-type pan, and fry the chicken pieces over a medium to high heat, skin side down first, for about 5 to 10 minutes until gorgeous and golden brown.
While your chicken fries, chop each fennel bulb into 8 wedges, and add these to the pan along with the onions, coriander stalks 
and garlic.
Stir well and fry for a couple more minutes, then mix in the preserved lemons, olives and saffron. Pour in the hot stock, give everything a good stir, then cover with a lid or foil, and simmer on a low heat for 1½ hours, or until the meat starts to fall away from the bone.
Halfway through, have a check and give it a good stir. Keep an eye on it and add a splash of water if it looks dry. When the time's up and your chicken looks perfect, stir gently. If it's still a bit liquidy, leave it to blip away with the lid off until thickened slightly.
Have a taste, season with a pinch of salt and pepper if you think it needs it, then sprinkle with the coriander leaves. There's enough love and care in the tagine for it not to need anything fancy, so serve it simply, with a large bowl of lightly seasoned steaming couscous.
Recipes taken from Jamie Does…