Sausage Trio. Mustard Trio.
Look at me all smug at the start of the week. All "sure, I'm on my own, but I'm still going to rustle up a nutritious meal for one with a bowlful of kedgeree."
Well, the novelty has worn off. Tom's flight got grounded for 24 hours, and what was meant to be a celebratory return turned into an unintended evening  toute seule.  
Sod it, cooking for one is a bore. I'll admit it. A massive bore. Food is for sharing, and for enjoying with others. There's certainly the odd night where I'm in by myself, and I'll enjoy trying out something new, laying the table for one, switching on Radio 4 and really savouring the solitude. But mainly, cooking just becomes necessity when I'm alone.  
That's why I have no shame in admitting that tonight was a night of sausage and kale. The kale as a nod to nutrition - and the sausages because they're cheap and easy and tasty. I went for my favourite, Debbie & Andrew's Harrogate sausages…as a treat…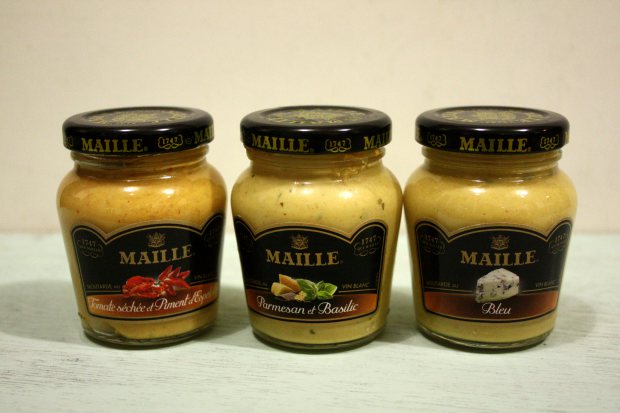 I didn't even bother with potatoes or an onion gravy, such is the extent of my melancholy.
But in a bachelor-esque fashion, I decided upon a trio of mustards instead. They're a Maille trio and - my goodness - they are flipping delicious. Blue cheese mustard, Parmesan and basil mustard, and chilli mustard. Seriously, if you thought that a normal Dijon is a condiment of dreams, the Parmesan and basil Maille will blow your mind - so salty, so intense, so mustardy.  
There has been a Maille shop in Paris since 1747, and finally 266 years on the company has crossed The Channel to sell mustard-on-tap to  The Brits. The flavoured pots ain't cheap. The fact that the first 'Maison Maille' is at 2 Piccadilly Arcade is an indication. But as a lover of mustard, I can tell you that I would happily trade a Satsuma for one of these little beauties in the bottom of my stocking.
Recipe (not that you can call it that!)
- Put the sausages in a hot oven for 20-25 minutes
- Just before the sausages are ready, put the kale in a pyrex bowl. Put a small splash of water in the bottom, a plate on top, and microwave for one minute.
- Artfully dollop the three mustards on the plate. Arrange the sausages in between the trio of mustards. Drain the kale and use it as an extraordinarily token garnish.  
The three pots of mustard were sent to me as a press sample.
To read more about Maille, see Liberty London Girl's post.