51 Degrees at The Rooftop Cafe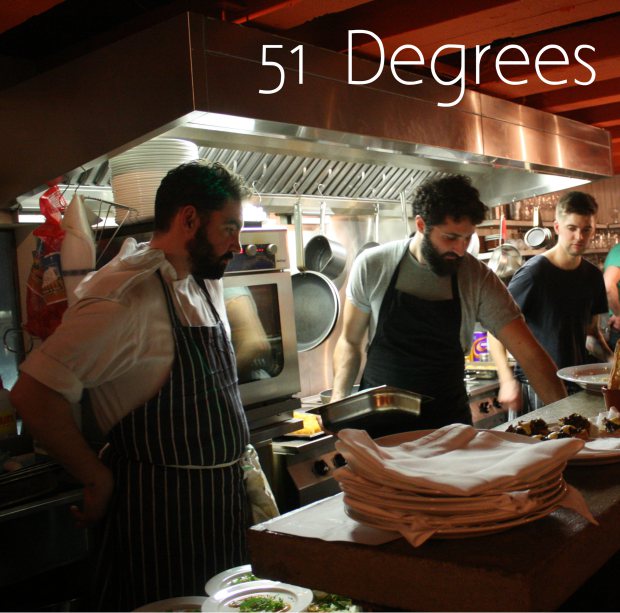 I love a post-work drink in The City, because it's always good to catch up with friends.
There are a few downsides though.
Firstly, location. Last night's booze seeps out of every pore of the men squeezed into The Swan on Ship Tavern Street. A fug of lunchtime gases and beer belches hang in the air and body heat radiates from under every wool-cashmere blend overcoat. There's the chronic bottom-pinching at The Jamaica Wine House and the all-boy-boarding-school feel to Simpson's Tavern where Etonian execs enjoy being scolded by the matronly servers. As a female freelancer, it's always a culture shock when I cross the border from Tower Hamlets to The City of London.
The second problem of an after-work drink is the sheer logistics. At six o'clock a glass of wine slips down easily. There might be a grabbed handful of Nobby's Nuts, and the enjoyable excess of a second drink. But by drink number three, it's game-over. Apparently post-work drinking is quite a British thing. Spanish chef Omar Allibhoy has always expressed his dismay at Londoners' insistence on drinking without eating - in Spain wine is sipped alongside wedges of tortilla and tapas. In San Francisco colleagues will eke out a single cocktail for forty minutes before grabbing some food together. But all Londoners are familiar with that sinking realisation  that it's 11 'o clock at night, and the only thing that has passed your lips since lunchtime is three quarters of a bottle of Pinot Grigio.
So, let me introduce you to an excellent solution. It's called 51 Degrees.
Every six weeks a 51 Degrees event is hosted at the Rooftop Cafe - near the foot of The Shard - where restaurants, suppliers, chefs, brewers and distillers are invited to provide taster courses for those there at the cost of £20 a ticket (bought through eventbrite). 
At the start of the evening, the cooks and bartenders line up in the open kitchen, and are introduced like rock stars: "First up is Ian Macintosh doing a prawn cocktail with yuzu, and after that it's the boys from The Flying Pig bringing you a smoked and pulled pork scotch egg…"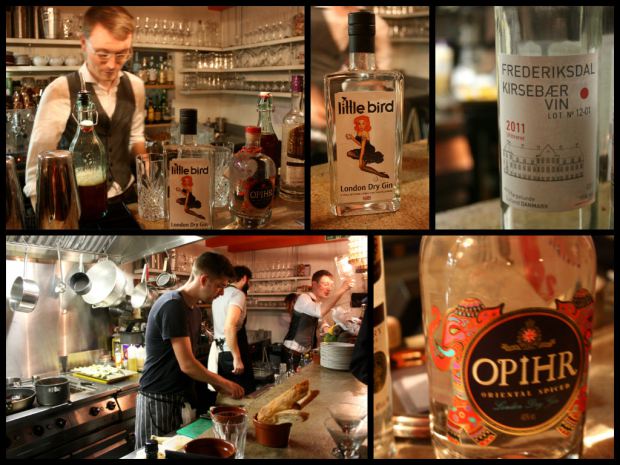 But aside from the five minutes welcome and introduction, it's a totally informal evening. Everything takes place in one room, with doors leading out to an enormous rooftop, which I imagine will be a big draw on long, summer evenings. Drinks party scenarios aren't my favourite - and there is a certain amount of balancing drinks and little plates of food while standing. But on the flip side, it is most translatable to a post-work pub scenario. No sitting at tables next to supper club strangers. I really enjoyed chatting to a few of the others there, but there was certainly no obligation. You can quite easily stick with the people you came with, a la pub, without anyone taking offence.
On arrival, we were steered toward a bartender from newly-launched underground gin den, 214 Bermondsey, who mixed us a G&T to kick things off. There was the option of Little Bird Gin ("brewed in Peckham, with really sharp, grapefruit notes") or Oiphr - an oriental spiced gin with big peppery, cardamom flavours. The guys at 214 Bermondsey make their own sugar syrup, infused with quinine. It's a dark colour, and makes the G&T a mysterious orange-brown colour, which sloshed around in extravagant, heavy crystal glasses. Unusual. Very delicious.
There were a plentiful supply of nibbles. 'Dripping & Soldiers' by The Princess of Shoreditch, which tasted of that delicious rendered bacon fat which you definitely shouldn't, but sometimes do mop up with a piece of bread after a fry up. There was  Truffled Mushrooms on Toast, Dublin Bay Prawn Cocktail with Yuzu by Ian Macintosh & Daily Fish, and (my personal favourite) Smoked & Pulled Pork Scotch Egg by The Flying Pig - a runny orange yolk, crisp crust and a juicy, shredded, generous layer of pulled pork in between. 
Already, I couldn't help compare the experience to the usual city drink. Firstly, there was the feeling of space which you just don't get in a Ledenhall pub, secondly the G&T was preferable to a headache-inducing glass of Chardonnay, and thirdly the canapés were filling and delicious. Don't get me wrong, I love a pack of Nobby's Nuts, but we're dealing with a very different creature here. Crikey, the mushrooms on toast were rich and salty - simple but sensational seasonal food.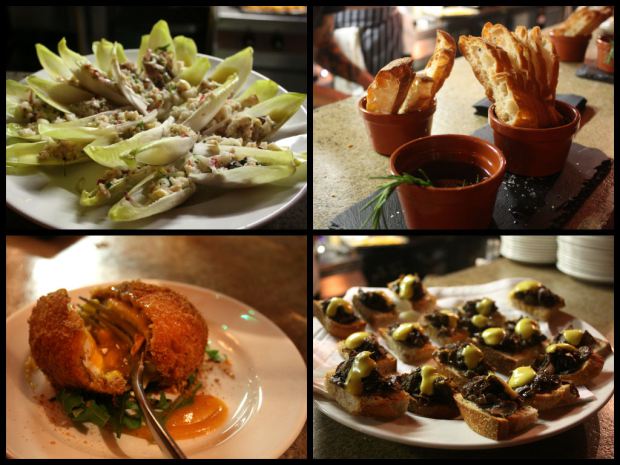 Before chef Ian Macintosh brought out his teeny tiny plates of Beef Shin Bourguignon and Curried Chicken Kiev, we were treated to another cocktail by 214 Bermondsey - Corpse Reviver #2. The dangerous mixture of gin, Cointreau, Lillet Blanc, lemon and absinthe seemed like the exact sort of thing you shouldn't be drinking on a Monday evening. We were told it has the same "wakening effect" of a Bloody Mary….and it did slip down like a dream. But in keeping with the taster-menu nature of the evening, the glasses were the smallest, prettiest  martini glasses, which allowed you to indulge in something as potentially-devastating as a 'Corpse Reviver' on a Monday night, without feeling too guilty.
As the evening drew to a close, platters of Christmas Pudding Fudge made by Mighty Fine were put out for the diners to pick at, along with little glasses of Frederiksdal Kirsebaer Vin 2011 from The Danish Bar - a cherry wine, which was a delicious cross between pudding wine and port. A really unusual bottle. I've never tasted anything like it, and will definitely keep an eye out for it in the future.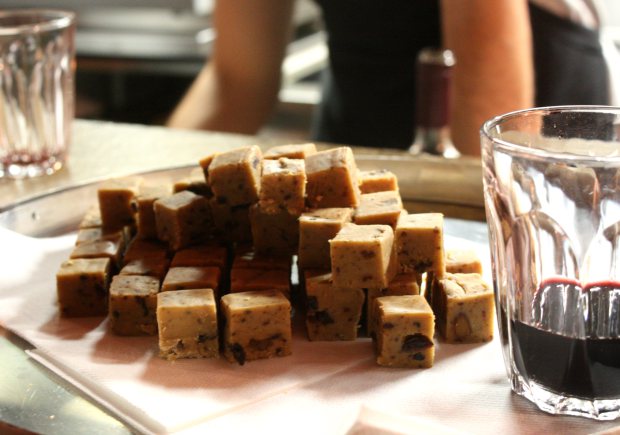 By 10 o'clock we had been treated to three drinks and so many interesting plates of food - not bad for £20. Especially when you think that will barely cover a round in a pub down the road.
51 Degrees is a really clever concept. It's a win-win situation. 'Win' for the diners thanks to the good value, and the opportunity to be introduced to new delights like cherry wine. And 'win' for the chefs, producers and restaurants. It's a great advertising opportunity. Their information is detailed on a 'programme' given to diners. As I mentioned, they are all given a rockstar introduction. And then they have a chance to showcase their wares in a relaxed environment, where diners were propping themselves up on the open kitchen counter and shooting the breeze. There's no better form of marketing than word of mouth. And having spoken to the guys at 214 Bermondsey, and tried a couple of their taster cocktails, I can assure you that I'll be telling friends, and getting down there to try some more pronto.
Before rounding off this post, I do want to point out that 51 Degrees does not do a traditional supper. It's perfect for people who had a decent-sized lunch, and are satisfied with a few little dishes in between drinks in the evening. There was one hungrier member of our group who did eat half a banana loaf on return. It's not a criticism of 51 Degrees - but just a levelling of expectations.
The tradition of post-work drinking in The City is far too deeply entrenched to change any time soon. And I can assure you I will continue to spend £20 on a round in The Swan. But I can also assure you that I'm also going to persuade friends to cross the bridge from time to time, and join me at future 51 Degree events to spend that £20 on something far tastier, which won't give me a Chardonnay headache the next morning…
For more information about upcoming 51 Degrees events, click HERE