Oxtail and Aubergine Ragu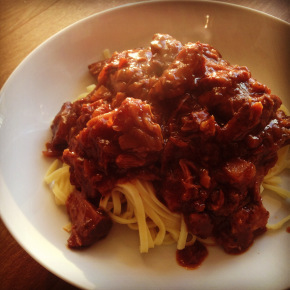 A recent Guardian article bemoaned the spate of Italian chains littering the high street. It described the "British 'Italian' as a bastardised standard bearer for affordable, democratic dining". According to the author, the uneducated masses are mistakenly gorging  themselves on pasta and Peroni - failing to acknowledge the real Italian delights of 'nduja and guanciale.
Much like the 'British Indian' - which is only loosely related to the 'Indian Indian', there are pros and cons of what are two quite different cuisines. Sure, an 'Indian Indian' is great for a delicately-spiced daal, but you can't beat a 'British Indian' if you're after a belting bhuna.
Interestingly, two friends just came back from holiday in Italy, complaining that they didn't eat a single good pizza all week. It made me think - I'm not sure I've ever eaten a memorable pizza in Italy either. I had a phenomenal one in Hackney last week though. Cuisines travel and cuisines change over time. There's a nostalgic belief that authentic is best - but quite often changes are made for a reason, like a kind of culinary Darwinism. Reincarnations often acknowledge the good and get rid of the bad. So perhaps Hackney's Lardo has nailed the crispy base and beautiful toppings in a way that many traditional Italian-Italians still haven't. I'm happy to embrace the current era of British-Italian eating, and enjoy the 'authentic' variety too.
Interestingly, the author's foray into 'authentic' Italian eating took him to a South  Leicestershire restaurant called Firenze. It used to be in the next door town to where my parents live - though tellingly, has now closed, and been brought back as a fish restaurant. "This was clearly 'real' Italian food, but at around £20 for a main course, it couldn't help but feel expensive" Naylor writes. Having been myself, I heartily agree. It's hard to swallow "rustic, peasant gear….the people's food" when the bill comes to £100 for two.
The choice shouldn't be between cheap, British-Italian food and expensive Italian-Italian food though. As proof, I bring you a recipe below, which works out at £2 per head (not including the 1/2 - or in my case - 1/4 bottle of red which needs using up). People say that you need Italian ingredients to make authentic Italian food. I agree that a tomato salad made from Tesco's tomatoes is never going to rival one made from fresh Tuscan tomatoes. But an oxtail is an oxtail, is an oxtail. So this recipe travels pretty well.
The meat was from the wonderful Brazilian butchers, Casa de Carnes - and at £5.99/kg you certainly get your money's worth. After three hours of cooking, it falls off the bone and bulks out a delicious sauce. The bones also introduce a lip-smackingly glutinous texture to the ragu, and creates a distinctive shine. And as I type, they're now being boiled away - filling the room with a wonderful meaty fog - and turning a pan of Thames Valley Water into Oxtail Soup for lunch (see below). Pure Alchemy.
Ox Tail and Aubergine Ragu
(serves 4)
1kg ox tail (if possible get the thicker bits, not the tail-end. You get more for your money, as the meat-bone ratio is higher.)
Plastic bag, containing a handful of plain flour, a bit of salt and pepper
8 shallots, cut into 1/4
4 cloves of garlic, crushed
2 carrots, diced
1/2 bottle of wine (if you drunk it, and only have 1/4 left, then top it up with beef stock!)
500g tomato passata
1 aubergine, grated
350g fresh egg linguine
1. Put the oxtail into the plastic bag of seasoned flour, and shake about a bit until they're lightly coated.
2. Heat up a casserole pan on the hob with a bit of oil in the bottom, and brown the ox tail. Then remove them from the pan - and put them to one side.
3. Pour a little more oil into the pan, and then add the carrots and shallots. Cook on a gentle heat until softened. Add the garlic to the pan.
4. Pour the wine (and/or stock) into the pan with the carrots, shallots and garlic, and bring to a fast simmer.
5. Return the ox tail to the pan, and then add the passata, oregano, salt and pepper.
6. Either simmer on top of the hob for 2 hours, or put in an oven at 160 for 2 hours. When you remove it after a couple of hours of cooking, the meat should be tender - but not quite falling off the bone yet.
7. Add the grated aubergine to the casserole pan. If the sauce looks a little thick, then thin with a little beef stock. Return to the oven/hob for 1 more hour of cooking.
8. Plunge the linguine into a pan of boiling water. Take the casserole pan out of the oven (and put in four shallow bowls into the cooling oven to warm them up a little).
9. Use two forks to shred the oxtail meat off the bone. Put the bones to one side (to make a stock at a later date), and stir the shredded meat into the sauce.
10. Stir the pasta into the ragu, put into warmed bowls and serve!