In July 2011 I tried - and failed - to make a pork pie.
It's taken me two years and two months to get back on the horse. A little hopeless, perhaps. But the collapsed pork pie was one of my more upsetting culinary experiences - because a lot of time and love goes into making a showstopper of a pork pie.
It was at Tom's parents' house in Suffolk. I had started the day before - boiling up pig trotters and other pork bones to make the jelly. The following morning, I spent (literally) hours chopping up bacon and pork shoulder into 1.8kg of tiny pieces. I rolled out the pastry, stuffed the pie, and pressed on the pastry lid. After an hour and a half of growing anticipation, I took the pie out of the oven, and - with the pastry still warm and supple - I tried to move it, with the equivalent weight of meat as a couple bags of sugar pressing down on it. Stupid old gravity. Needless to say, the base fell off, breaking the seal and making it impossible for me to pour the liquid jelly in.
I resignedly served a meat pie instead. Instead of a lovely, jelly-filled pork pie. 
Having done some research though, I discovered that Delia's pork pies don't contain jelly. Jamie Oliver's pork pies don't contain jelly. Paul Hollywood's pork pies don't contain jelly.
Still, Melton Mowbray pork pies contain jelly, and being a good Midlands girl, I was going to persevere.
I decided that the first step was to downsize the pork pies, to change the meat : pastry ratio, so at no point was there quite so much heavy meat weighing down on the pastry. So I made a batch of mini pork pies in a muffin tin, which actually turned out to be quite cunning.
I kept the pastry the same, because it was well-behaved and delicious. And I added the magic ingredient of 'sage salt' to the meat mixture (courtesy of my lovely spice grinder). All went smoothly - the pies came out of the oven looking like little beauties. They popped out of the silicone muffin moulds quite easily, and were happy to be moved when still-warm. I transferred them to a tray, brushed them with egg yolk and put them back in the oven for ten minutes. Joy.
But when it came to the critical moment of using a funnel to pour the liquid pork fat into the pie to create that wonderful jelly layer between the meat and the pastry, it just wouldn't go. I'd used a bay leaf to keep the hole open in the top of the pastry. My mini funnel fitted into the gap. But when I went to pour in the stock, there was just no room in the pie.
Should I have filled the pies with less meat? Is there a way to stop to stop the pastry from expanding? Or another way of getting the jelly into the pie without using this clumsy funnel-through-a-hole technique? If you've managed to make pork pies with a jelly filling, then please do let me know!
I'm going to write out the recipe anyway, because they do make lovely little meat pies. In fact, a couple of the people who helped devour the batch said that they didn't actually like the jelly part in shop-bought pork pies. I still like the jelly for texture and moisture….but it's nothing that a good coating of chutney can't sort. So here we go.
Mini Pork Pies

This made enough for 12 x mini pork pies in a muffin tin, and also a 18cm enamel pie dish (though longer cooking times apply for the bigger pie)
For the jelly:
2 pig trotters (and any other pig bones you might be able to negotiate with your butcher)
1 onion, halved
1 carrot, halved
1 sprig of rosemary
2 bay leaves
8 peppercorns
1 teaspoon salt
For the pastry:
100g butter
100g lard
200ml boiling water
550g plain flour
1.5 teaspoons salt
2 large eggs
For the meat:
850g pork shoulder, chopped finely
250g minced pork
2 rashers of smoked bacon, chopped finely
12 sage leaves
1 teaspoon salt
5 peppercorns
13 x bay leaves
egg yolk for glaze
1. Put all the jelly ingredients in a stock pan. Fill with 2 litres of water, and simmer for 3 - 5 hours, occasionally topping up with water if/when it gets low.
2. Strain, pour into a jug and refrigerate.
3. Start to melt the butter and lard in a pan. Pour over boiling water, and stir over heat until the butter/lard is entirely melted. Use a wooden spoon to stir in the flour and salt, and then add the eggs. Use your hands to bring everything together into a warm, squidgy ball. Wrap in cling film and refrigerate.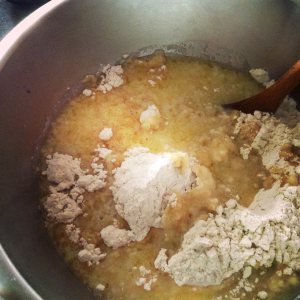 4. Combine the pork shoulder, minced pork and bacon in a mixing bowl. Now blitz the sage leaves, salt and pepper corns in a spice/coffee grinder. Add to the pork mixture.
5. Roll out the pastry. Cut circles to line muffin tins. Spoon the pork mixture into the cases. Top with a circle of pastry, use your fingers to scrimp together the lid with the sides, and brush with egg yolk to glaze.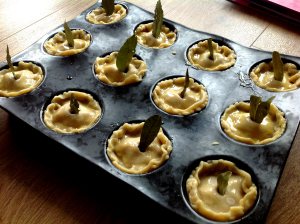 6. Use a bay leaf to poke a hole in the top of each pie. In theory, this will later be used to poke the funnel through, and pour in the liquid-jelly. Now cook the pies for 40 minutes at 180C. When they're cool enough to touch, transfer them to a tray. Brush them with egg yolk, and pop them back in the oven for a further 10 minutes to glaze.
Step 7 (IN THEORY) Spoon some of the jelly into a pan, and heat until it becomes liquid again. One by one, poke the funnel into the hole in each pie, and spoon in a tablespoon of the jelly. It should flow between the meat filling and pastry, and then reset into jelly when refrigerated for a few hours - overnight.
8. Regardless as to whether you succeeded with the jelly step or not, cut into quarters slather with either mustard or chutney, and enjoy.